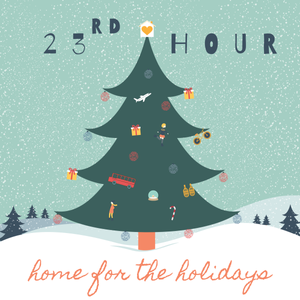 Each year, we pledge to begin work on our Christmas songs early. Each year, we fall short of our goal and find ourselves in an all-too-familiar predicament, working through the Thanksgiving weekend to put the finishing touches on our latest musical creations. (This year had a bit of twist in the culinary department: Chinese takeout on Turkey Day.) 
The challenge, of course, is finding inspiration to write about snow and eggnog and presents under Der Tannebaum when it's a balmy 90 degrees Fahrenheit in downtown Los Angeles. 
Nonetheless, we did it! And our latest album "Home for the Holidays" is available for downloading at 23rdhr.com (streaming will be available Dec. 10 or thereabouts). 
As always, we have included some classics and are introducing some new original tunes. 
"Get Me Home for the Holidays" was co-written with Caley Rose, another resident of the greater L.A. basin.
Songwriting is a craft, like any other. It requires practice, diligence, the ability to review and edit your work objectively. And sometimes, a song just seems to fall from the sky. I believe the entire co-writing process on this number was about 2 hours.  It began with a guitar riff from George (our usual starting point), and the lyrics and melody just seemed to fall in place. 
For recording, Caley also takes the lead on the vocals, with Sherry adding harmonies. Sherry and George performed and arranged all the instrumentation (both real and virtual instruments). And Sherry produced this masterpiece, which includes 85 separate tracks. We figure she spent 100 hours in the process. Much of this was a learning curve for her, with many lessons learned. But she is now a bonafide L.A. record producer.
Sometime during the summer, Sherry and George were kicking around some ideas for another original song. We love the slow, melancholic ballads and decided to try our hand at crafting one of these. 
The end result is "Christmas Feels Lost Without You." 
Once again, the arrangement was by George, based on a guitar riff he had kicking around, and Sherry handled all the production. She put all her learnings from the work on "Get Me Home for the Holidays" to practice, and, thankfully, she was able to polish this one off in far less time. 
"O Holy Night" is a classic hymn performed in a late-night jazz cabaret style, with just George on piano and Sherry on vocals. 
For "Ave Maria," we stuck to the traditional Schubert melody and style. This number also includes just George on classical guitar and Sherry's mellifluous voice. 
If you've been following our music for the past two years, you'll recognize "Let A Day Together Be Christmas" and "Have You Noticed the Season?" These tracks are remastered as part of this package. 
We would like to thank Caley Rose for her contributions to our new offering. 
And, as always, a shout out to our friends at StudioPros for mastering our tracks. We've been working with Kati O"Toole and the gang at StudioPros for many years now. Kati handles our frantic last-minute requests with aplomb and she and the team always come through for us.